Chinese doctors have published an x-ray of the lungs of a patient with the coronavirus 2019-nCoV that has spread through China and other countries.
The images published by Chinese doctors are of a 33-year-old woman who entered the hospital after presenting symptoms such as fever and cough for five days.
CT Imaging of the 2019 Novel Coronavirus (2019-nCoV) Pneumonia.
https://pubs.rsna.org/doi/10.1148/radiol.2020200236 …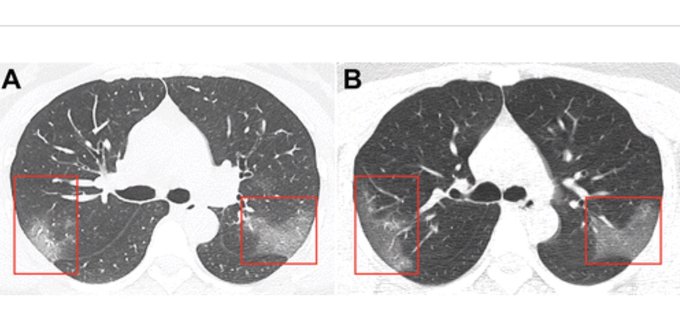 At the time of the woman's admission, doctors noted that her body temperature had risen to 39°C and heard the sounds of her breathing were harsh in both lungs.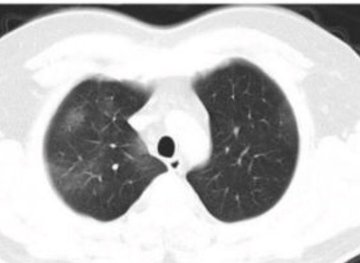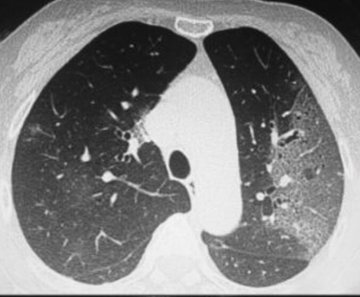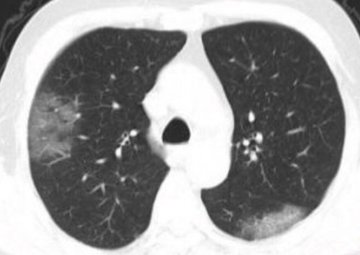 Doctors examine the patient for coronavirus
The outbreak of coronavirus that has put the whole world on alert because of its spread in several countries emerged in the Chinese city of Wuhan at the end of December 2019.
Since January 2020, infections have been on the rise and scientists in several countries are working to find a vaccine against the disease.
The case
A 33-year-old woman came to the hospital with a 5-day fever and cough for an unknown reason. She said she had worked in Wuhan, China (center for an outbreak of coronavirus), but went to Lanzhou, China 6 days before the hospital visit.
On arrival, her body temperature was elevated to 39.0°C (102.2°F) and with auscultation, rough breathing sounds were heard in both lungs. Laboratory studies showed leukopenia (leukocytes: 2.91 × 109/L). Differential leukocytes showed 70.0% neutrophils and 0.1% eosinophils.
Elevated blood levels of C-reactive protein (16.16 mg/l; normal range, 0-10 mg/l), erythrocyte deposition rate (29 mm/h; normal range, <20 mm/h) and D-dimer (580 ng/ml; normal range, 500 ng/ml).
An untreated chest CT showed several peripheral turbidity of ground glass in both lungs, which did not spare the subpleural areas.
The real-time fluorescence polymerase chain reaction of the patient's sputum was positive for the nucleic acid of the new coronavirus (2019-nCoV).
The diagnosis of 2019-nCoV pneumonia was made based on epidemiological characteristics, clinical manifestations, chest images and laboratory data.
After 3 days of treatment in combination with interferon inhalation, the patient was in clinically worse condition, progressive lung opacity was observed on repeated chest CTs.