Wildlife photographer of the year 2019.
For more than fifty years this has actually drawn in the world's absolute best professional photographers, biologists and young professional photographers.
There has actually never ever been a more vital time for audiences all over the world to experience
our impactful and motivating exhibit," Tim Littlewood, Director of Science at the Natural History Museum.

50,000 entries from amateur and expert professional photographers throughout 100 nations were submitted to, of which the total winners will be revealed on October 15, 2019.

"Photography has a special capability to stimulate discussion, dispute and even action.

After the awards event, the images will be shown at London's Natural History Museum from October 18 and will later on be showcased on a worldwide trip.
Credit: Eduardo Del Álamo/ Wildlife Photographer of the Year 2019.
A gentoo penguin flees for its life as a leopard seal break out of the water.
Adrian Hirschi, Wildlife Photographer of the Year 2019.
A newborn hippo, simply days old, was keeping close to its mom in the shallows of Lake Kariba, Zimbabwe, when a big bull all of a sudden made a beeline for them. He chased after the mom, then took the calf in his big mouth, plainly intent on eliminating it.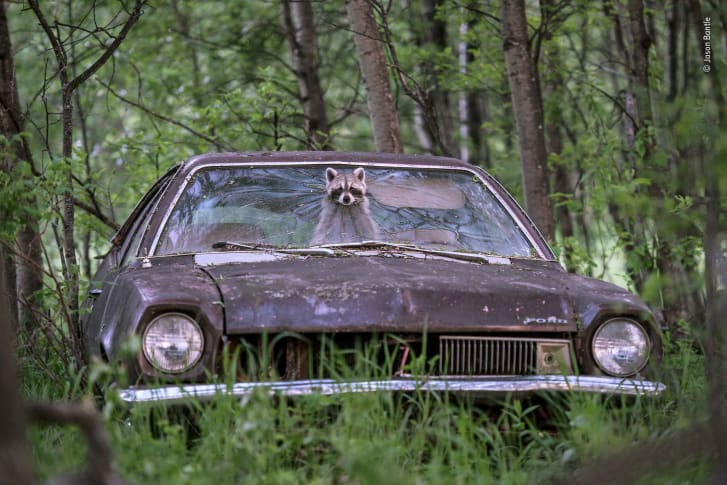 Jason Bantle, Wildlife Photographer of the Year 2019.
An ever-adaptable raccoon pokes her bandit-masked face out of a 1970s Ford Pinto on a deserted farm in Saskatchewan, Canada. In the rear seats, her 5 lively sets trill with enjoyment.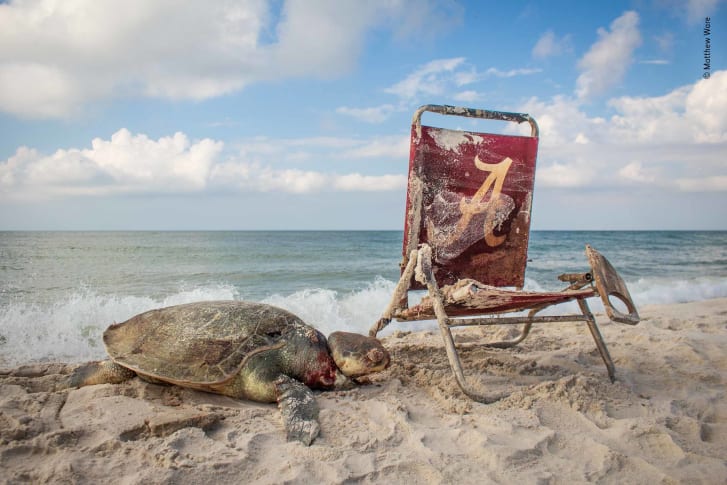 Matthew Ware, Wildlife Professional Photographer of the Year 2019.
This beach scene at Alabama's Bon Secour National Wildlife Refuge looks appealing initially look:
blue sky, soft sand and a Kemp's ridley sea turtle. As the professional photographer got more detailed he might see the deadly noose around the turtle's neck connected to the washed-up beach chair.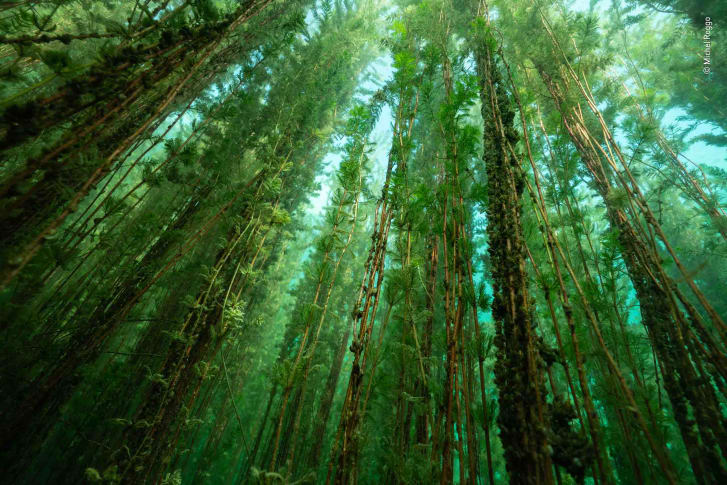 Michel Roggo,Wildlife Photographer of the Year 2019.
Slim stems of Eurasian watermilfoil, bearing whorls of soft, feathery leaves, grab the sky from the bed of Lake Neuchâtel, Switzerland.
Frank Deschandol, Wildlife Photographer of the Year 2019.

On a night-time field trip in the Peruvian Amazon rain forest, professional photographer Frank Deschandol identified this bizarre-looking weevil holding on to a fern stem.
Its glazed eyes revealed it was dead, and the 3 antennae-like forecasts outgrowing its thorax were the ripe fruiting bodies of a 'zombie fungi.'
Credit: Adrian Hirschi/Wildlife Photographer of the Year 2019

Credit: Jason Bantle/Wildlife Photographer of the Year 2019

Credit: Matthew Ware/Wildlife Photographer of the Year 2019

Credit: Frank Deschanel/Wildlife Photographer of the Year 2019